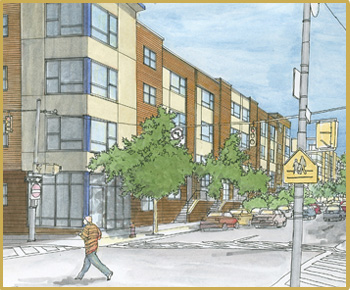 Station North Townhomes

In the heart of Baltimore's Arts and Entertainment District, Station North Townhomes are garage townhomes uniquely designed and conveniently located only two blocks from Penn Station.

Station North Townhomes is designed to respect the surrounding historic townhomes in the neighborhood, while providing at the same time a distinct and contemporary new commmunity with modern amenities. With easy train access to Washington DC and downtown Baltimore, the site represents a unique opportunity for homebuyers seeking an urban lifestyle in a convenient and more affordable location. This prime location is in such high demand that the first phase of the development sold out in one weekend.

For more information about Station North Townhomes, go to www.stationnorthtownhomes.com

Gallery Square

Situated on the DC subway and one block from DCís MCI Sports and Entertainment Arena, Gallery Square will join a slew of planned development projects in the coveted East End area. With more than $1 billion of new development projects underway or completed in the East End since 2001, and many more projects coming, the area is widely recognized as the heart of DCís development boom.

View the Washington Business Journal's recent press coverage on Gallery Square.

Gallery Court II

Located in Chinatown/Gallery Place - busy Downtown Washington D.C.'s office, retail and residential marketplace, Gallery Court II is a blend of historic renovation and modern addition. The existing 3-story historic brick building facting 8th Street NW will be fully renovated and expanded to accommodate a modern kitchen, open and private dining areas, and an outside rooftop patio.

Past Projects

View Riverdale International's past projects and company history.